Corporate Criminal Conduct on a Global Scale
ADHD drug Strattera fraudulently marketed by Eli Lilly

Side-by-side comparison of Eli Lilly websites in United States and China

Screenshot of lillychina.com (captured Mar 5, 2011) ~ Lilly promotion of Strattera (atomoxetine) 择思达(托莫西汀) Tuomoxiting in China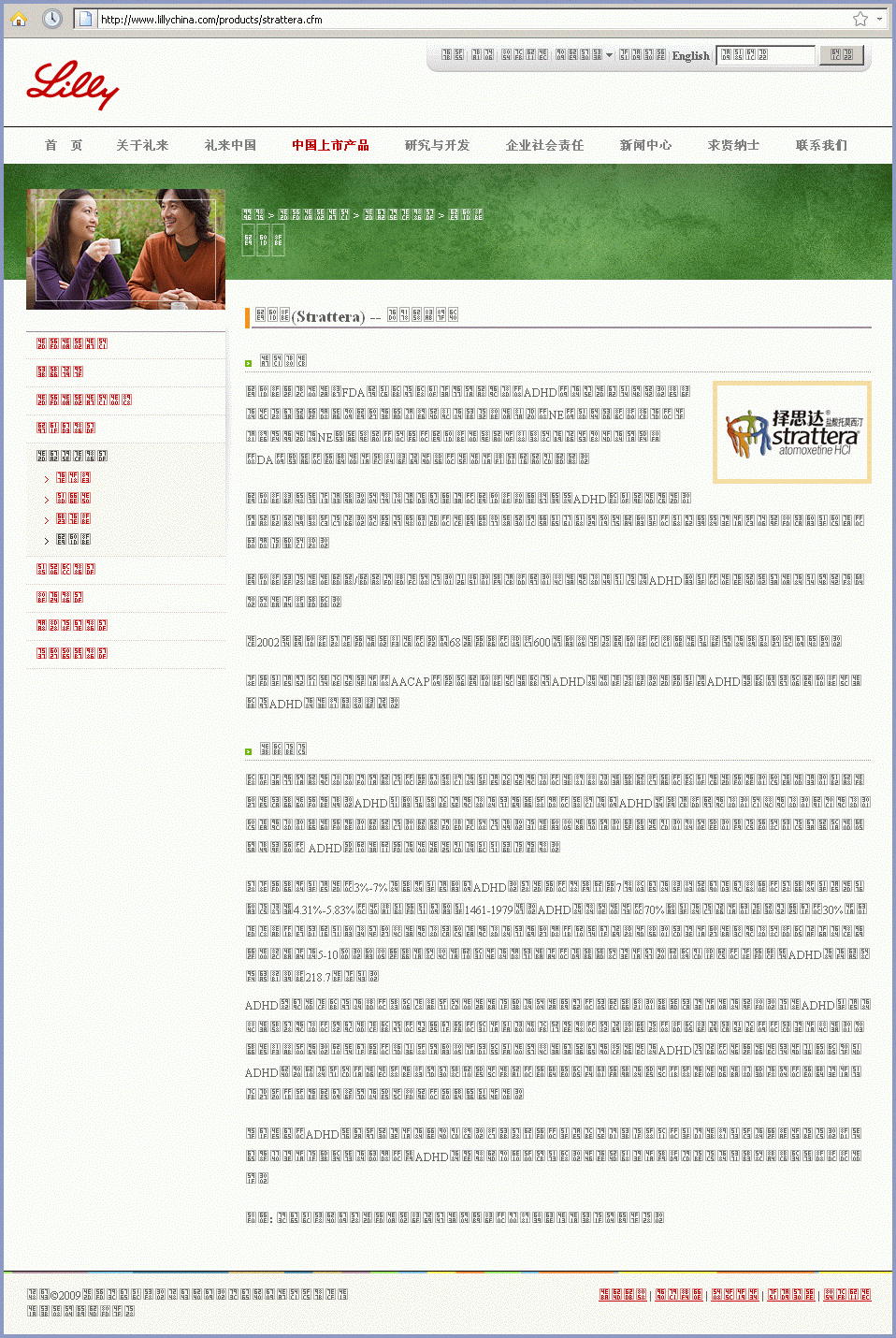 Screenshot of Google's English translation ~ www.lillychina.com
Although a poor translation, this provides a glimpse into Eli Lilly's unethical corporate behavior.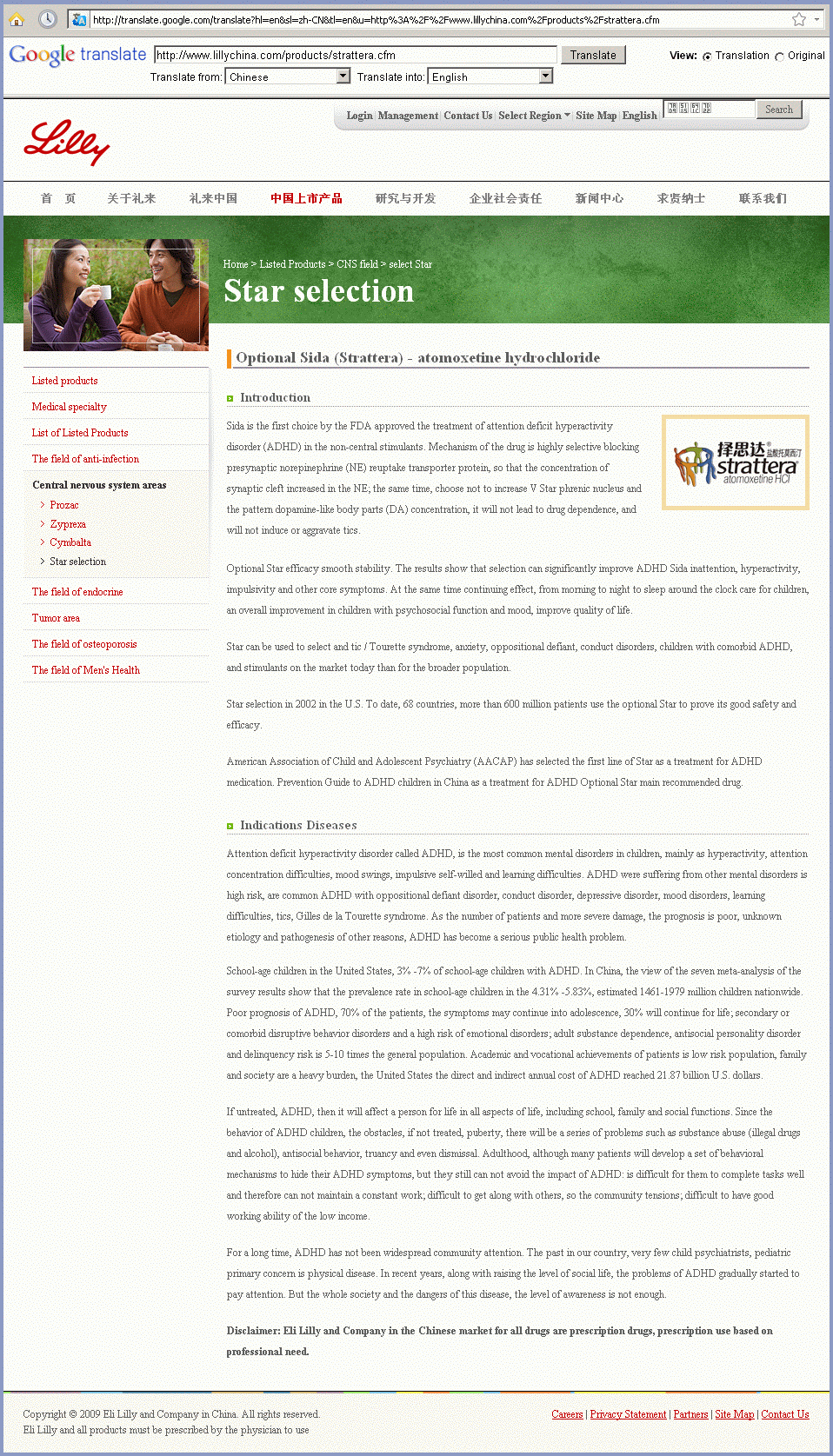 (Screenshot captured Mar 5, 2011)

U.S. website strattera.com warns U.S. patients of suicide risk – why are Chinese not warned?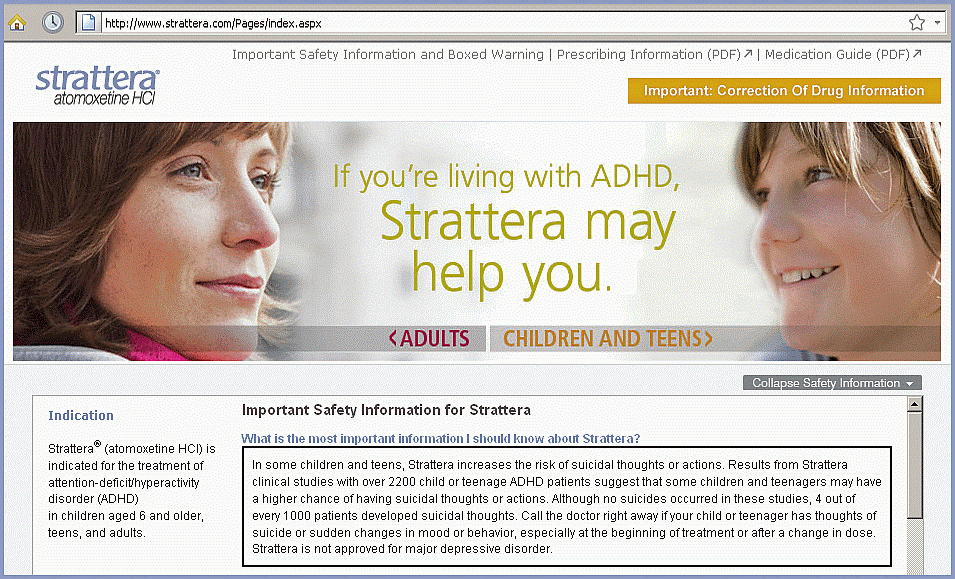 (Screenshot captured Mar 5, 2011)



According to Lilly's U.S. website, an increased risk of suicide is the most important thing patients should know about Strattera. &nbsp Lilly's website in China says nothing about this risk; patients are told nothing about any Strattera side effects at all. &nbsp Chinese readers are warned instead about the dangers of ADHD (deliquency, substance abuse, unemployment, depression and other serious problems, both personal and social) unless treated with medication.

Lilly boasts that Strattera is the first "FDA-approved non-stimulant to treat ADHD" but fails to mention an FDA-required black box warning for Strattera.

Lilly does mention side effects of competing drugs (stimulants like Ritalin and Vyvanse may be habit forming and commonly cause tics) while claiming that Strattera "will not lead to drug dependence and will not induce or aggravate tics."

The assertion that Strattera does not induce tics is both appalling and audacious, given the abundant evidence to the contrary:
&nbsp Abdominal Tics During Atomoxetine Treatment in a Child With ADHD. Párraga H, et al. CNS Spectr. 2008 Sep 1;13(9):E1.
&nbsp Atomoxetine and tics in ADHD. Lee TS, et al. J Am Acad Child Adolesc Psychiatry 2004;43(9):1068-9.
&nbsp Atomoxetine use associated with onset of a motor tic. Ledbetter M. J Child Adolesc Psychopharmacol 2005;15(2):331-3.
&nbsp Development of tics in a thirteen-year-old male following atomoxetine use. Sears J, Patel NC. CNS Spectr 2008;13(4):301-3.
&nbsp Tic exacerbation and precipitation during atomoxetine treatment in two children. Párraga H, Párraga M, Harris D. Int J Psychiatry Med 2007;37(4):415-24.

Beyond claiming Strattera neither causes nor exacerbates tics, Lilly recommends Strattera for treating tics. This despite another FDA warning that Strattera is not approved for the treatment of tics.

Lilly's arrogant disregard for patient safety is apparent in China, where the company aggressively promotes Strattera not only for ADHD but also for anxiety, conduct disorder, oppositional defiant disorder, tics, Tourette syndrome and God knows what else.

In an undated letter from Eli Lilly and Company, U.S. Medical Division, Neuroscience, addressed to "Dear Patients and Consumers," Medical Director Cherri Miner explained that in response to the FDA's September 2008 request to immediately cease the dissemination of false and misleading Strattera promotional materials, "Lilly stopped using these materials... Lilly later discovered that webpages from Strattera.com were unexpectedly available through indirect links on the internet between December 8, 2008 and April 3, 2009. These webpages and pdf files could have been viewed by anyone interested in information about Strattera. Once Lilly became aware of this issue, the webpages and pdf files were removed from the internet."

Three years ago Eli Lilly agreed to remove false statements from strattera.com for the simple reason that Lilly was required to do so. &nbsp Today Lilly allows false statements on lillychina.com because the company is not required to remove them. &nbsp Lilly's ethical standards are questionable to say the least.

A complete list of Strattera side effects may be viewed in English here and Chinese here.






Back to A Little Sampler of Chinese ADHD Remedies


&copy 2011 Bonkers Institute for Nearly Genuine Research
---
Bonkers Home &nbsp &nbsp &nbspAbout&nbsp &nbsp &nbsp Contact &nbsp &nbsp &nbspFunding &nbsp &nbsp &nbsp Affiliates &nbsp &nbsp &nbspBecome an M.D. &nbsp &nbsp &nbspFunny Pages&nbsp &nbsp &nbspSite Map