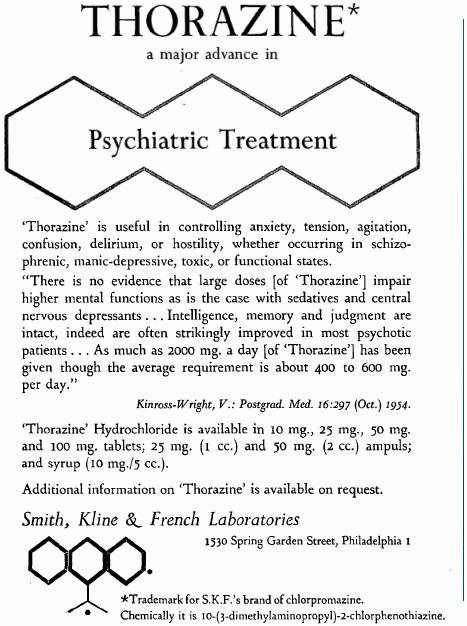 Thorazine advertisement, 1955.
Psychosomatic Medicine, Vol. 17, No. 6.

Thorazine* a major advance in Psychiatric Treatment
'Thorazine' is useful in controlling anxiety tension, agitation
confusion, delirium, or hostility, whether occurring in schizo-
phrenic, manic-depressive, toxic, or functional states.
"There is no evidence that large doses [of 'Thorazine'] impair
higher mental functions as is the case with sedatives and central
nervous depressants... Intelligence, memory and judgment are
intact, indeed are often strikingly improved in most psychotic
patients... As much as 2000 mg. a day [of 'Thorazine'] has been
given though the average requirement is about 400 to 600 mg. per day."
Kinross-Wright, V.: Postgrad. Med. 16:297 (Oct.) 1954.
'Thorazine' Hydrochloride is available in 10 mg., 25 mg., 50 mg. and
100 mg. tablets; 25 mg. (1 cc.) and 50 mg. (2 cc.) ampuls; and
syrup (10 mg./5 cc.). Additional information on 'Thorazine' is available on request.
Smith Kline & French Laboratories &nbsp &nbsp 1530 Spring Garden St., Philadelphia 1
*Trademark for S.K.F.'s brand of chlorpromazine.
Chemically it is 10-(3-dimethylaminopropyl)-2-chlorphenothiazine.