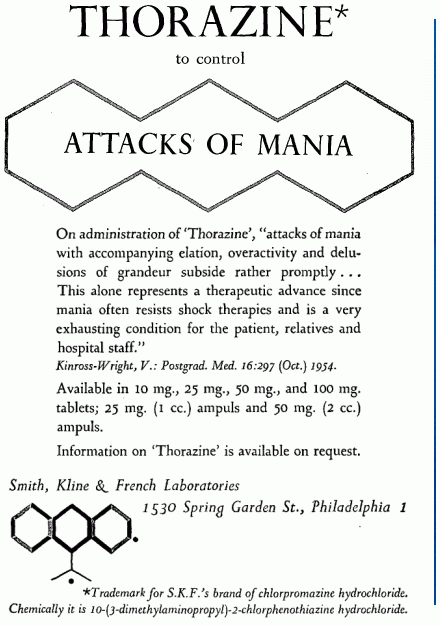 Thorazine advertisement, 1955.
Psychosomatic Medicine, Vol. 17, No. 2.


THORAZINE*
to control
ATTACKS OF MANIA
On administration of 'Thorazine', "attacks of mania
with accompanying elation, overactivity and delusions
of grandeur subside rather promptly...
This alone represents a therapeutic advance since
mania often resists shock therapies and is a very
exhausting condition for the patient, relatives and
hospital staff."
Kinross-Wright, V.: Postgrad. Med. 16:297 (Oct.) 1954.
Available in 10 mg., 25 mg., 50 mg., and 100 mg. tablets;
25 mg. (1 cc.) ampuls and 50 mg. (2 cc.) ampuls.
Information on 'Thorazine' is available on request.
Smith Kline & French Laboratories
1530 Spring Garden St., Philadelphia &nbsp 1
*Trademark for S.K.F.'s brand of chlorpromazine hydrochloride.
Chemically it is 10-(3-dimethylaminopropyl)-2-chlorphenothiazine hydrochloride.