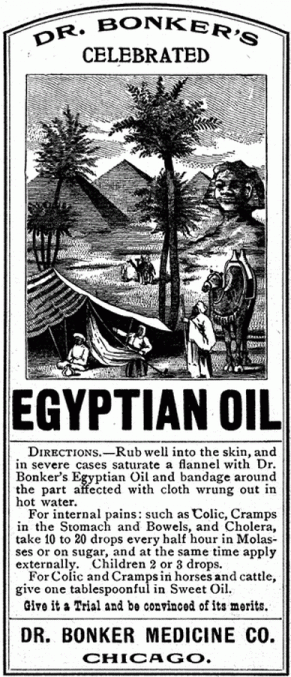 DR. BONKER'S
CELEBRATED
EGYPTIAN OIL



Directions. -- Rub well into the skin, and
in severe cases saturate a flannel with Dr.
Bonker's Egyptian Oil and bandage around
the part affected with cloth wrung out in
hot water.

For internal pains: such as Colic, Cramps
in the Stomach and Bowels, and Cholera,
take 10 to 20 drops every half hour in Molas-
ses or on sugar, and at the same time apply
externally. &nbsp Children 2 or 3 drops.

For Colic and Cramps in horses and cattle,
give one tablespoonful in Sweet Oil.

Give it a Trial and be convinced of its merits.


DR. BONKER MEDICINE CO.

&nbsp &nbsp &nbsp &nbsp &nbsp CHICAGO.