Shire ROADHD TRIP, 2008
Shire U.S. Inc. and Integrated Communications Corp. (ICC)
Shire manufactures Adderall, Daytrana and Vyvanse.
ICC is a medical communications company or, better put, a pharma ad agency.


ON THE ROADHD AGAIN
Trucking across the United States to provide adults with free ADHD screening, information, and direction.

According to estimates, nearly 10 million adults in the United States have Attention Deficit Hyperactivity Disorder (ADHD), 2.4 million of them are being treated for this disorder. &nbsp However, approximately 7.5 million adults with ADHD remain untreated. &nbsp Studies show that adults with ADHD have a lot to lose. &nbsp They are more likely to be unemployed, divorced, and involved in multiple car crashes compared with adults without ADHD.

The challenge was to expand the market for ADHD. &nbsp To achieve this goal, a mobile consumer outreach program, was developed that would screen for adults with undiagnosed ADHD and provide them with information about this disorder and how to get help for it.

The program features a customized big rig truck completely wrapped in the campaign's enormous and engaging graphic message, ROADHD Trip, Free Adult Screening. &nbsp Trucking around the United States and making scheduled and advertised stops at health fairs and other public venues, the ROADHD Trip mobile screener will undoubtedly draw crowds. &nbsp Adults who think they may have ADHD are invited to participate in a free self-screening when Shire's "ROADHD Trip" arrives in their area. &nbsp Giveaways include ADHD information brochures and ROADHD Trip water bottles.

Our custom-designed 18-wheeler traveling exhibit will be displayed at major events including Health and State Fairs. &nbsp The ROADHD TRIP Exhibit will include:
* Computer stations with Adult ADHD Screeners
* Personalized and confidential screener results printed and provided to the participant
* An on-site ADHD educator to answer any questions
* ADHD brochures and other reading material for distribution
* An ADDA (Attention Deficit Disorder Association) member on-site to provide ADHD reading material and support resources

An outdoor patio was created to invite interested parties to break from the heat of a summer day, have a cool drink and explore solutions for this condition in a relaxed setting.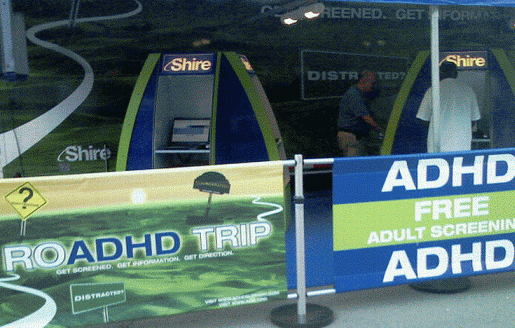 Click images to view more pictures.